How does the promotion work?
Recurring buy orders that are set up from the promotional period of 28 to 30 Nov 2022 will have their commissions refunded from the point of set up till 28 Feb 2023. All existing and new users are entitled to this promotion.
Recurring buy orders that were previously set up or set up outside of the promotional period will not be refunded.
Refund of commissions will happen within 10 working days of the next month.
How do I set up a recurring buy?
Recurring buy feature enables you to set a scheduled day in a week or month to automatically purchase share(s) or ETF(s) of your choice. This way, you may dollar-cost average with ease on Syfe Trade.
At the moment, you may set recurring buys only for securities that can be traded fractionally, as only market orders by dollar is supported for recurring buy. Thus, kindly note that recurring buy is only applicable to the US market and not available for the SG market.
You may follow these easy steps below to create a recurring buy order: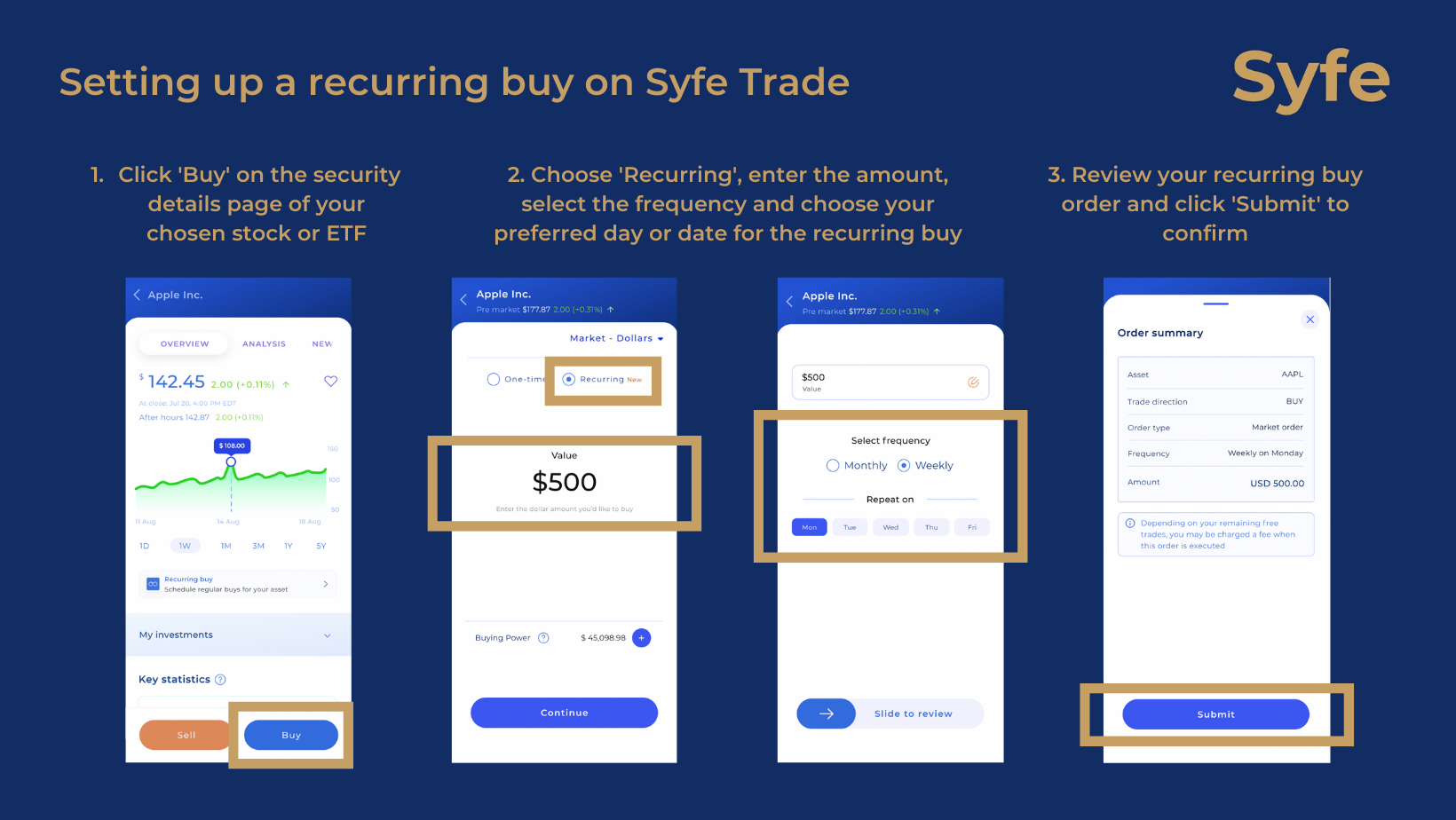 Other T&Cs and examples
1. There is no minimum or maximum limit in terms of orders or market value to qualify for the promotion.
2. Daily, weekly, bi-weekly, and monthly orders qualify for this promotion.
3. The free recurring buy orders do not take up the monthly free trade quota.
Scenario 1
You are on a 2 month free trade plan and have 3 free recurring buy orders and 2 normal orders within that month. Regardless of which trades come first, you will be refunded for the 3 recurring buy orders. Along with the first 2 free trades, it means you will not pay any amount in commissions for that month.
Scenario 2
You are on a 5 month free trade promotional period and have 2 recurring buy orders and 2 normal orders. You will not pay any commissions that month or receive any refunds.
Scenario 3
You are on a 2 month free trade plan and have 1 free recurring buy order, 1 normal recurring buy order, and 2 normal trades. You will be refunded for 1 recurring buy order, and along with the 2 free monthly trades, you will effectively pay for 1 trade that month.