1. Log in to your Syfe account. On your Syfe dashboard, scroll down and click on the portfolio from which you wish to withdraw funds.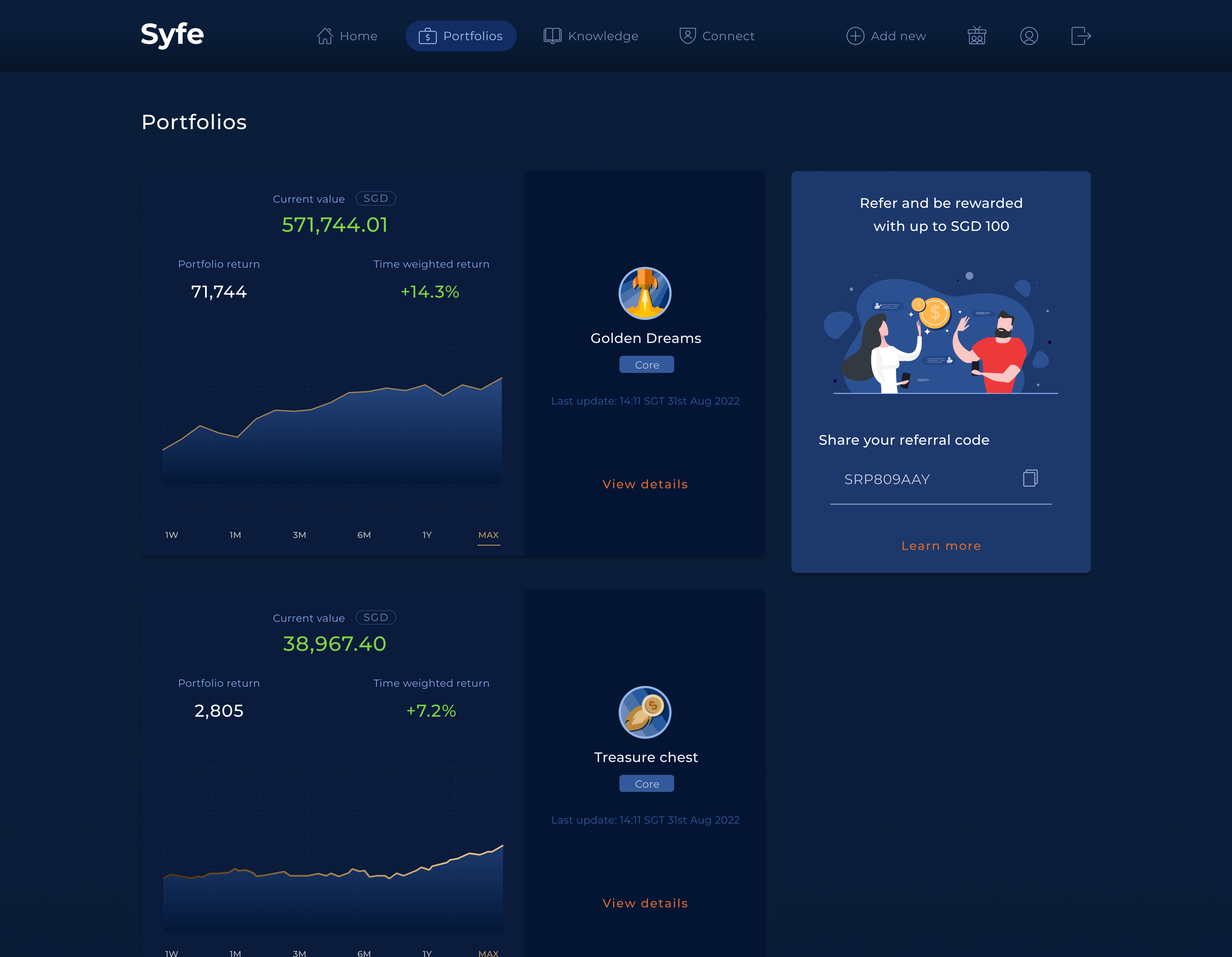 2. Click on the Manage funds button.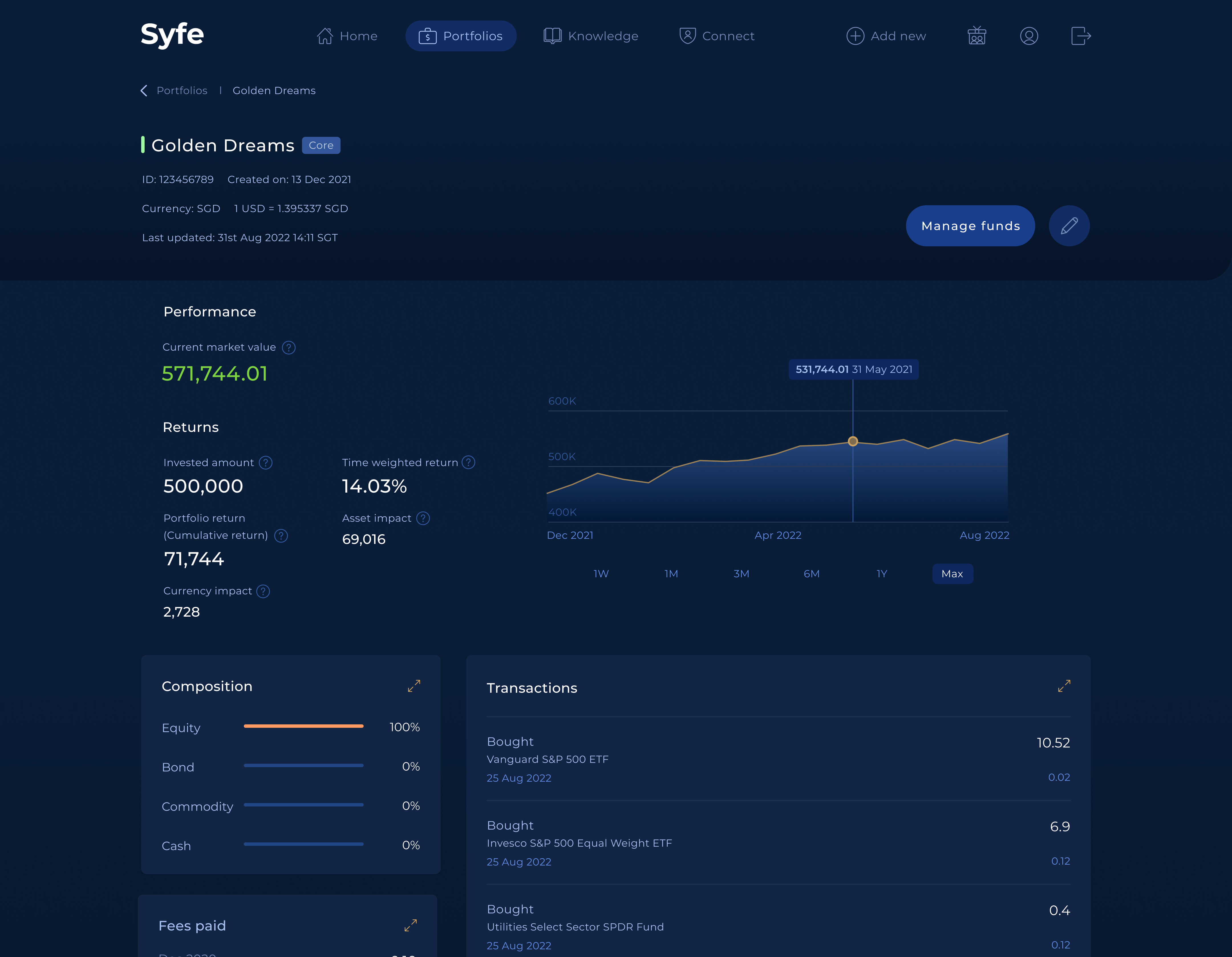 3. Select the Withdraw funds option and click on the Proceed button.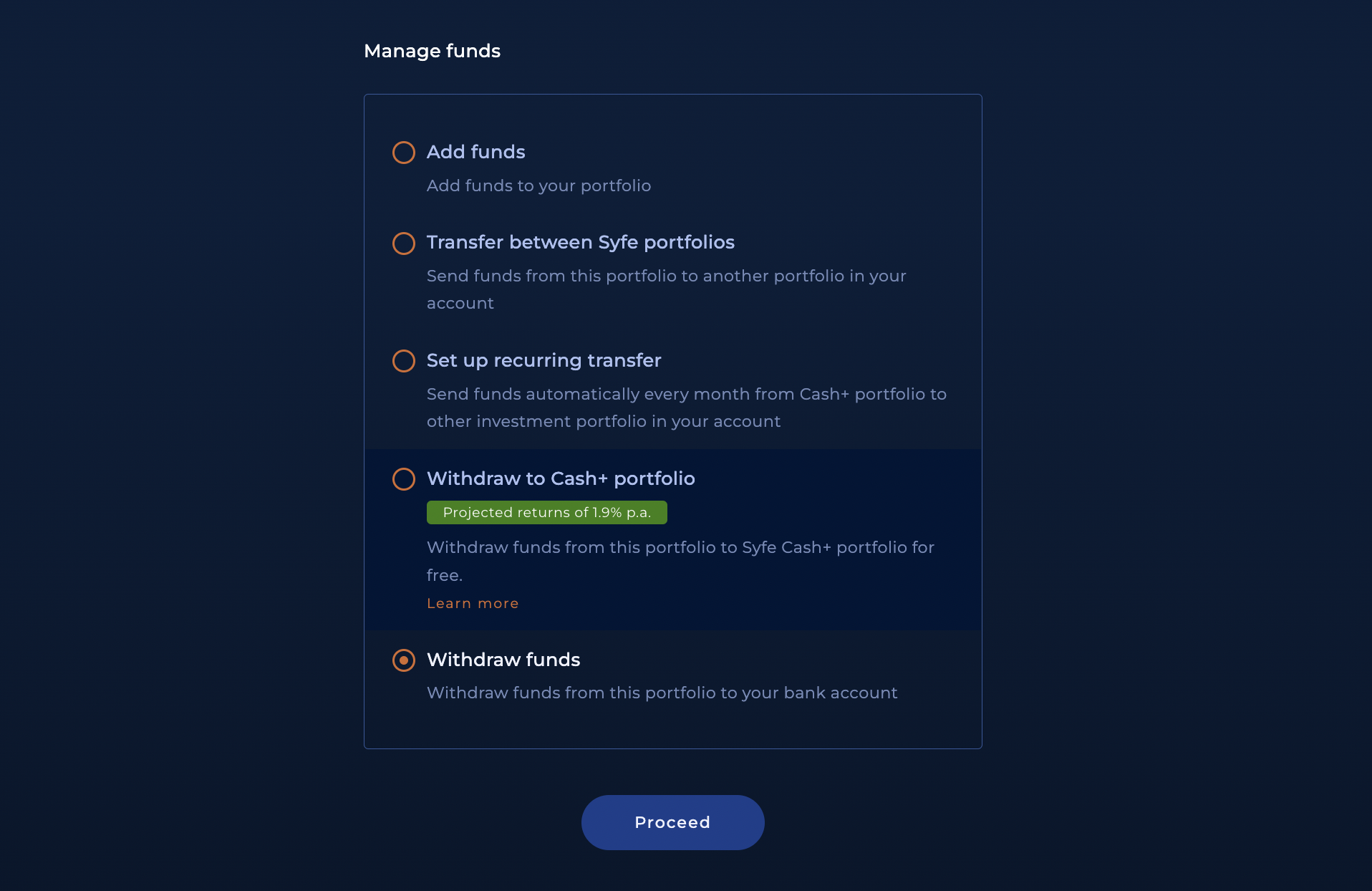 4. On the next page, select the reason for withdrawal, provide additional feedback in the text field, if applicable, and tap on the Proceed to withdraw button at the bottom of the page.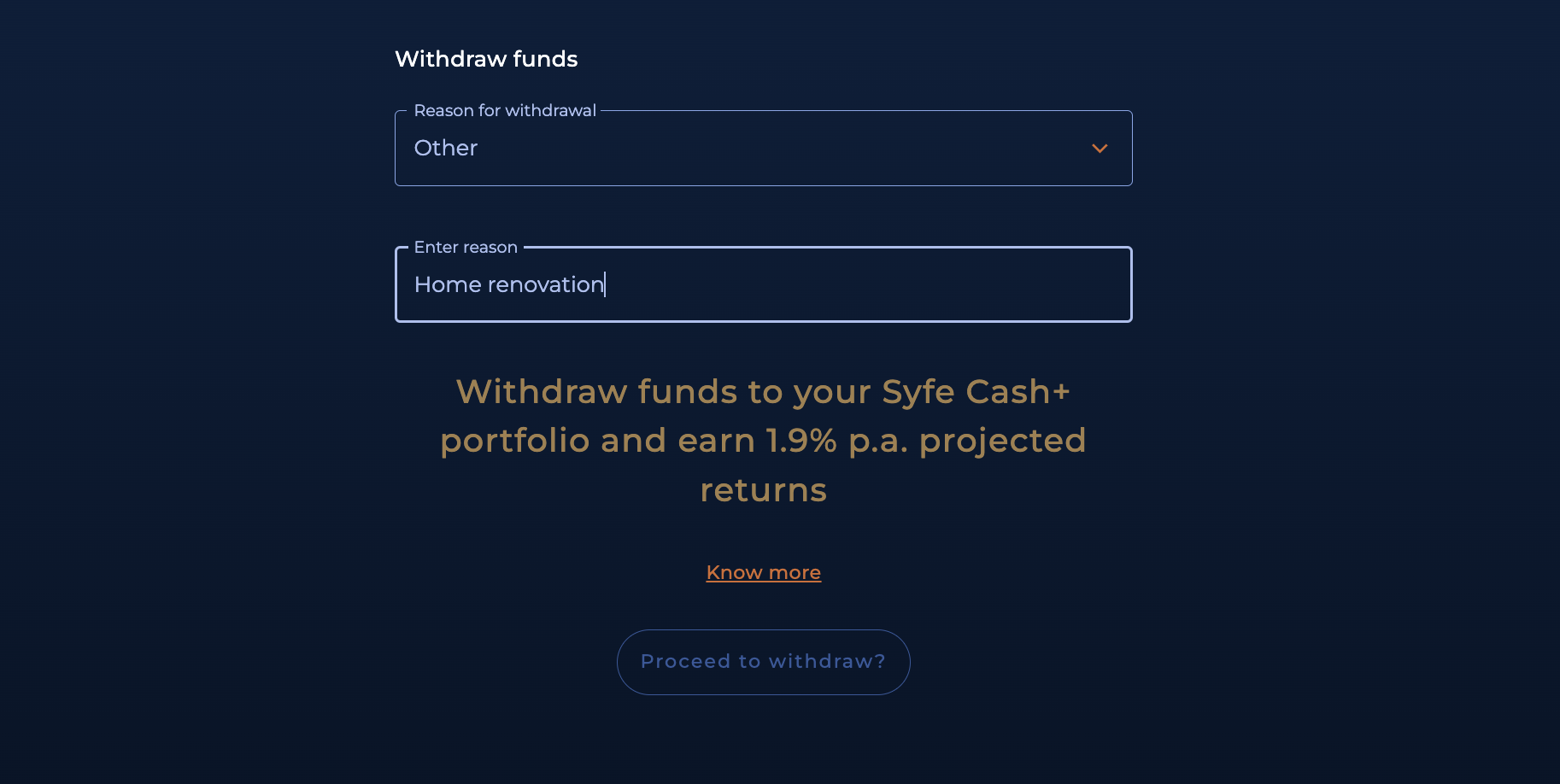 5. Select either partial or full withdrawal, select a bank account to withdraw the funds to, choose a currency and enter the amount to withdraw (for partial withdrawals).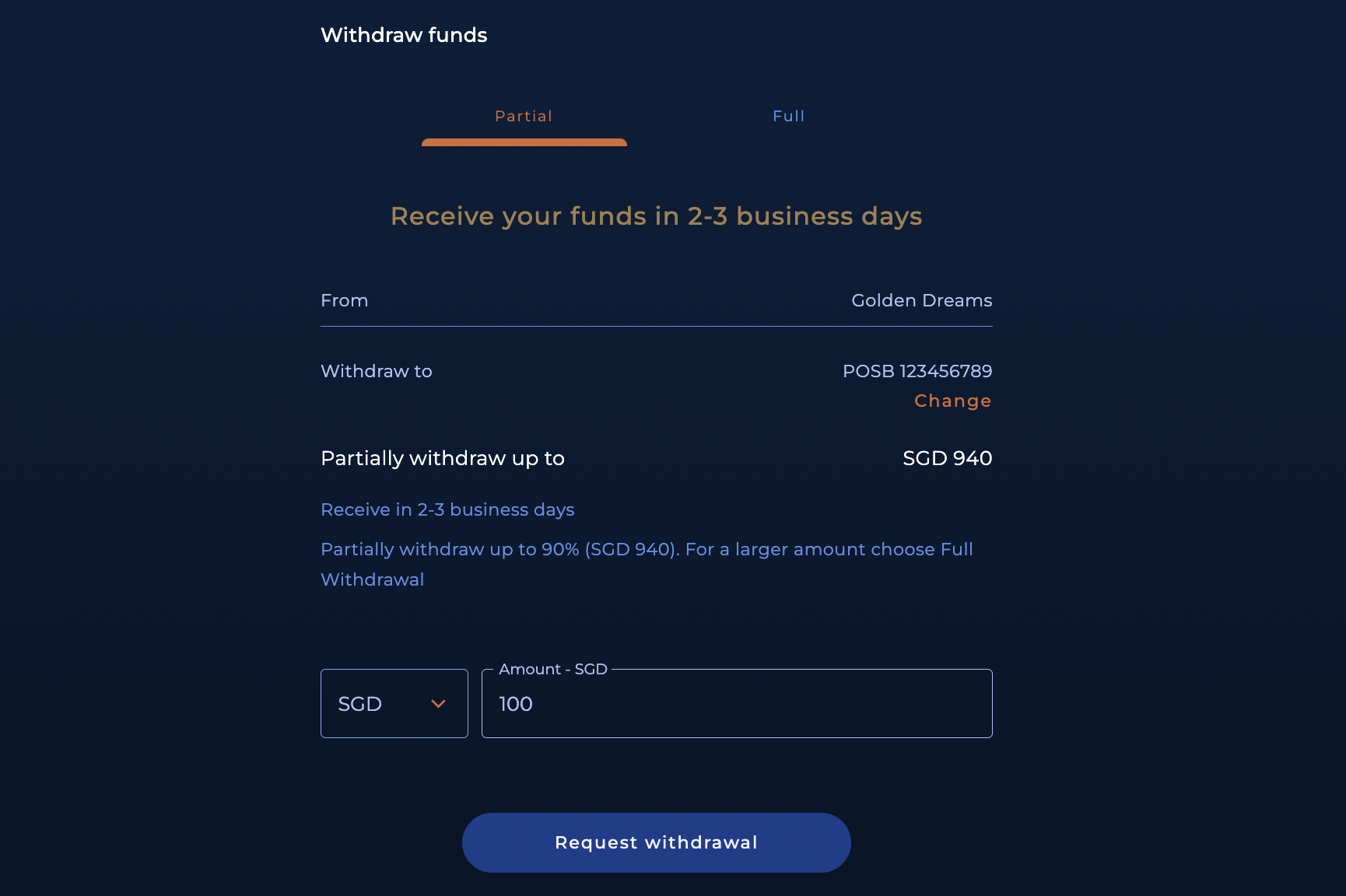 Partial or full withdrawal
Select Full Withdrawal if you wish to withdraw all of the funds from the selected portfolio.
Select Partial Withdrawal if you wish to withdraw up to 90% of the funds from the selected portfolio.
Indicating your bank details
Enter the bank details like the bank's name, account holder's name, account number, instructions, if any, and let us know if your bank account is from Singapore or not.

Please take note that we do not accept debit/credit card numbers as a valid bank account for the withdrawal. Please enter a valid bank account number for the withdrawal to be successful.

SWIFT code is not required for withdrawals to Singapore bank accounts. However, if you are withdrawing to an overseas bank account, you will need to indicate the SWIFT code to enable international transfers.

Please ensure that your bank account is in good standing and able to receive funds. If it is not, there might be a delay in your withdrawal and/or your withdrawal might be reversed.
Selecting a currency
For transfers to an SGD currency bank account, select SGD to avoid any currency conversion charges.

For overseas transfers, you may choose either SGD or USD based on the currency of your bank account to avoid any currency-conversion charges. If your bank account has a different currency, then you can select SGD or USD.
6. Click on the Submit button. When asked for a confirmation, click on the Confirm button and you're done.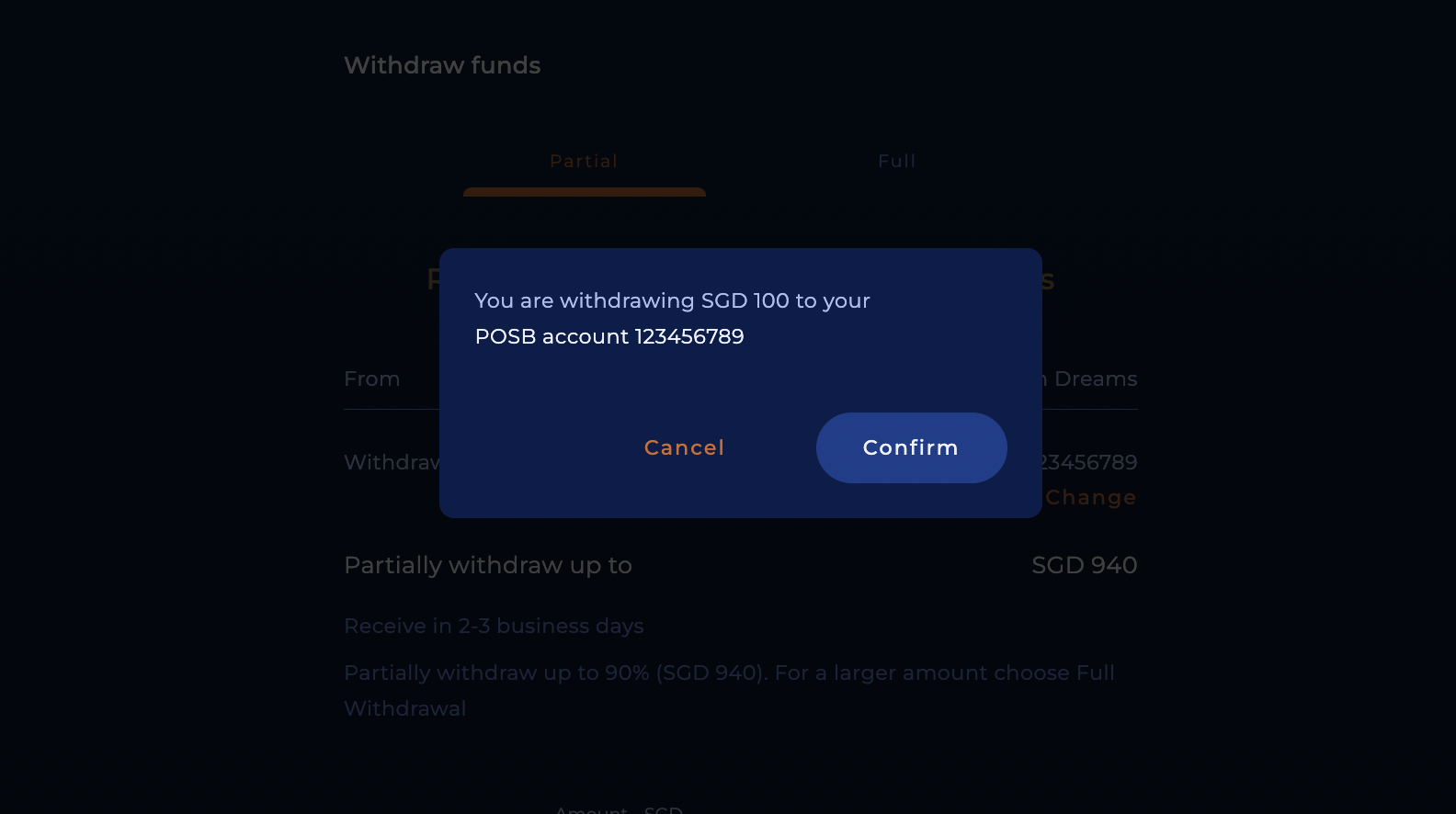 You will be able to see your ongoing withdrawal request under Transactions section in your portfolio details page. A confirmation email will also be sent to you after we have received your withdrawal request.
Note: Withdrawals to a Singapore bank account takes 2-4 business days while overseas transfers can take up to 7 business days. Withdrawal requests placed on non-business days and after 11 AM on a business day will start processing the next business day.
Learn more about withdrawals: