You can pause, skip the next monthly transfer, or delete the recurring transfer anytime.
Here's a guide showing you how to do so on your Syfe web dashboard: https://www.loom.com/share/1e2ff41d65c84f08a961fe312e7a1e75
If you're on mobile, you can click the 'Edit' icon on the 'Your upcoming transfers' tab on your Syfe app dashboard.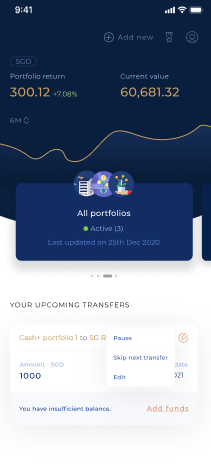 You can also edit your monthly transfer amount or the date of transfer the same way. Amend your recurring transfer details as necessary and confirm the changes.