For Recurring Transfers, there is a transfer limit of 90% of the Cash+ portfolio value. Please ensure the Recurring Transfer amount is within 90% of your Cash+ portfolio value so that the transaction can be processed.
You will be notified via email 10 days prior to your transfer date that your Cash+ portfolio has insufficient funds to complete your next scheduled transfer. A second reminder will be sent 5 days prior to your transfer date.
You will also see a notification through your Syfe dashboard regarding the insufficient balance.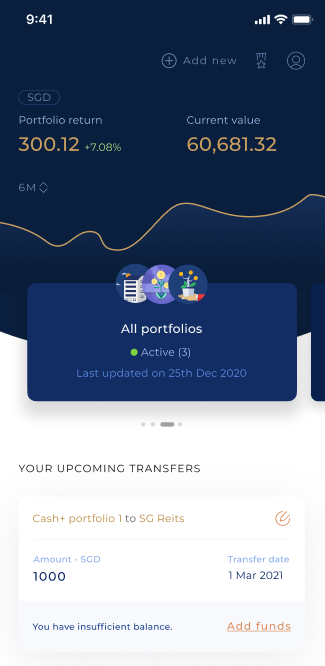 Click on 'Add funds' to top up your Cash+ portfolio. More instructions on how to make a top up for your Cash+ portfolio can be found here.
You may also edit your monthly transfer amount or skip the next transfer if you prefer.
Please note the scheduled transfer will be skipped if there are insufficient funds in your Cash+ portfolio to fulfill your indicated monthly transfer amount.